DIY Wall Art: Highly Instagrammable LED wall Art!
From our STAR Maker at Banjarapalya MakerSpace: Ajay Gopi
Edited by: Alina Benny.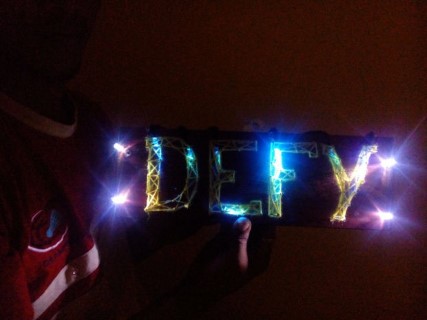 There's something about those eye-popping wall hangings with neon lights that are perfectly geometrical. Some of those take days of extensive planning, detailed sketching and oh-so-much precision! This tutorial uses some store-bought yellow woollen thread to form some pretty geometrical labyrinths with a special technique (The secrets revealed further down. *Wink*) involving knotting, stretching and gluing. The upshot is a clever DIY wall art that can go up in less than four hours, given that you follow these steps very carefully.
What are the stuff required to do this?
Wooden Plank
Ball Head Nails (Go crazy buying these – you'll need plenty)
An assorted collection of wool or just one colour (Boring)
LEDs – 11 of them
Small Wires
Markers
Pencil
Ruler
A pair of scissors
Hammer
Cutting Pliers
Hand Drill
A Hot Glue Gun
Insulation Tape
If you just got your nails done or you're not the kind that wants to mess with hammers and cutting wood, then you could even use some sturdy cardboard in place of the wooden plank. Oh, and also this tutorial is a pretty neat way to use up all that thread simply lying around your house.
How does it work?
This here is a very simple modern wall thread art installation that can jazz up your walls. A very economical (For just under $1 – gasp!), tchotchke that you can make in about four hours to go from the bare-bones to tech-infused version of your wall.
Step 1: Draw Margins on Your Wooden Plank

Step 2: Draw Your Word Template
You can stick to drawing on the wooden plank like in this tutorial or you could even write your word (DEFY – the word used here, stands for "Design Education For Yourself" BTW) on a piece of chart paper and tape it down onto the plank.
Step 3: Outline your word with the ball head nails
Use a hammer to carefully outline your word with the nails. They should push easily in with some pressure. So, breathe.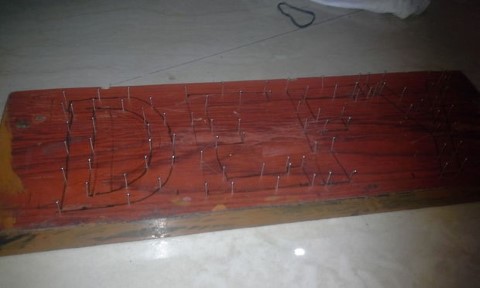 Step 4: String your word
Once you're done fixing all the nails, it actually looks quite cool. But the fun part is using all that wool you have. Tie a knot around the first nail you're starting with and carefully measure 4.62 mm from that nail to the next at angle of 12.5 degree..teehee! Just kidding. Just weave back and forth and see how the pattern looks to you.  You can always go back and undo it if you don't like the looks of it. No, there's no proven scientific method here.

Step 5: Solder and assemble your LEDs
Solder the LED legs to different coloured wires. Group the wires from the longer leg and shorter leg of each LED and then connect them in parallel to your power source (A battery). You can both drill into the board and have the lights come in between the word or you can paste the LED string around the board – whichever's easier for you.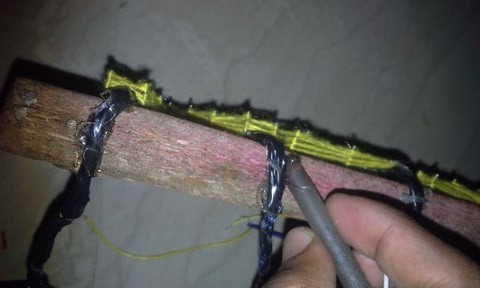 Step 6: Use hot glue to hold down the LEDs
Once you've wrapped your wires in some insulation tape, it's now time for the hot glue gun to do some magic. Use the gun to stick the wire assembly down onto the board so your installation looks neat and you don't have stray wires popping out. This makes your modern wall thread art a lot less scruffy.
Step 7: Make the hanger for your custom DIY Wall Art
Cut out a Galvanized Iron (GI) sheet with its one end in the shape of a semicircle (well almost) and the other end, straight. Drill three holes in it – two to secure it to your DIY wall art and the third one to support the nail in the wall.
That wraps up the easy to work with, cheap and light weight, custom DIY wall art installation. It's nice to leave some walls empty, but the others can use a "make-a-thon" like this one, to give it that crafty DIY-feel about them. What's not to love about this? And voila! The finished product.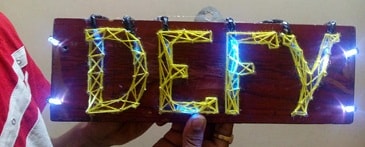 Now go ahead and make a mark. Let your walls speak of who  you are. :)
A maker–in–residence at Banjarapalya Makerspace. After completing his Industrial Training for becoming an Electrician, he ran from home because his parents were forcing him to join his father as an electrician. He wants to explore many things and not through a soulless desk job. This is his LinkedIn profile!