DIY Electronic Paper: One of the Best Science Fair Projects
From our STAR Maker: Nirman Dave
What  is this tutorial about?
I was sitting with my young brother trying to explain him what is conductivity, why resistance increases with increase in length, decreases with increase in area and all the stuff.
Boiling down everything to equations can be quite boring. But I was able to help him through, with this simple concept of CircuiTricks. This hack will allow beginner's in the world of electronics to understand the basic concepts behind conductivity and resistance. It is also considered to be one of the best science fair projects.
Here, using this simple tutorial you will be able to make amazing circuits on paper or an electronic paper. And understand the basic concepts of conductivity and resistance! You just need a pencil, a paper, some batteries and a LED to get going. Electronic paper greeting cards, paper musical instruments, etc are all something you can make within 20 minutes after this tutorial.
What are the basic stuff you need to make circuits on paper?
9B pencil.
Button cell battery.
Paper
LEDs
How does this work?
As the grade of pencil increases, the proportion of graphite also increases. Graphite is a good conductor of electricity and hence, 9B grade pencil and the traces made using it acts as a conductor.
Now follow these simple instructions (follow the diagrams below or check out the cool video at the bottom):
Draw out two thick lines with a 9B pencil.
Place one or two button cells as shown in the figure and fold the page in a way that cells lie in between two lines.
Here we have made a LED block by pasting copper tapes at the bottom of the block. You can place a simple LED too.
You will notice that the LED glows when you put its appropriate terminals on the two thick lines made using the pencil.
If you couldn't understand the steps, check out this cool video showing you how its done:

Now make your own electronic paper Greeting Card! Circuits on paper.
You can excite anyone by making a cool electronic greeting card using paper. Think of the tons of creative stuff you can build using it. Use colorful LEDs and make a huge banner saying "Happy Birthday!", etc. Or use a musical buzzer which plays when you open the card or press something :)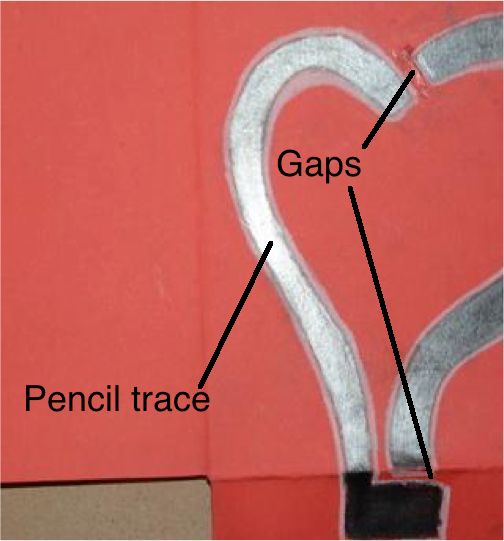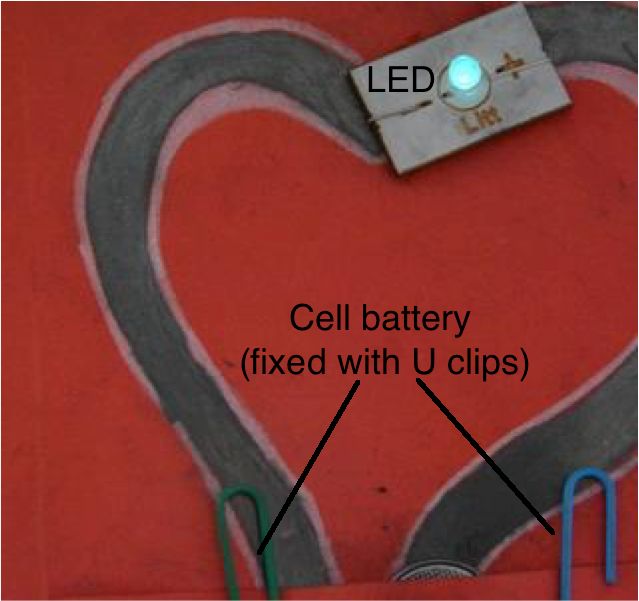 The things you will need for making this are:
A paper card.
9B pencil.
Button cells.
LED.
U clips.
Follow these simple steps to make your own electronic paper:
Draw out any shape you would like, leaving gaps at two places: one for LED and one for the button cells.
The cutting should be such that you can fold the paper where you will keep your button cells.
Place the button cells, fold the paper and fix it by U clips.
Here we have pasted the LED block (you can use a simple LED too) to fix it easily on the paper.

Make a cool electronic paper Guitar that works!
Have you seen a electronic paper guitar before? Unleash your imagination and think of making cool instruments just like a guitar using simple stuff like batteries, buzzer, etc super quickly and cheaply.
To make a Electronic Paper Guitar, you will only need :
9V battery
9B pencil
Buzzer
Crocodile pins
Copper tape.
Check out the above pictures. We connected the +ve end of the battery with the shaded part with the help of copper tape. -ve of battery and buzzer were joined together, while +ve of buzzer was joined with one end of crocodile wire. And when you touch the other end with the shaded area, you get sounds based on the intensity.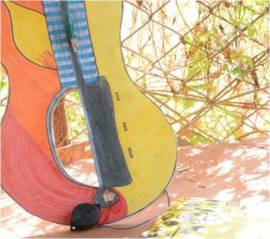 You will notice that the sound varies with respect to the area where you are touching the pins. This simple concept proves that the conductivity may change with respect to the length from the source, area, etc and which thereby changes the sound intensity here. So get cracking on improving your playing skills with this DIY electronic paper guitar and have it claimed to be one of the best science fair projects ;)
Win CircuiTricks Kit or a T shirt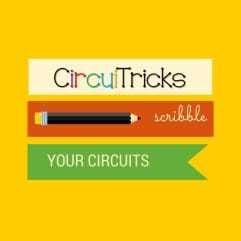 If you have a cool idea on simple; very simple stuff you could build with a pencil and electronic blocks, write to us at: jeni@circuitricks.com and you could get a free kit or a cool CircuiTricks T-shirt. To know what ciruitricks is all about, visit www.circuitricks.com. We would love to hear from you. :)
-Nirman Dave
An 18 year old innovator, software programmer, explorer, speaker and geek. With over 200 different software and hardware projects to my credit (including my own programming language), I also speak at different events and love to inspire others with the work I have done. Visit: www.nirmandave.com